Frequently Asked Questions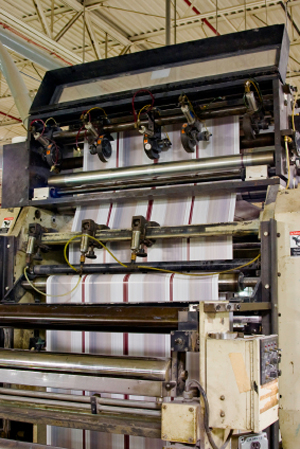 As the name would suggest, this section is a compilation of answers to the questions our clients commonly ask. Here you'll find answers to common questions our clients ask. Just start by following one of the links below.
Are you a "green" company?

Absolutely! We take very seriously our role in preserving the environment and integrate numerous green practices into our daily operations. In addition to energy-efficient equipment and chemical-free technologies, we can perform many print jobs using recycled paper stock. If you would like to use recycled paper for your next print job, let us know. You'll be pleased with the results and feel good about helping the environment, too.

At what resolution should I save my photos and graphics?

Resolution should be set to 300 dpi.

Pictures and graphics pulled from the internet are often low resolution, typically 72 dpi or 96 dpi. Avoid these graphics, as they will appear pixilated and blocky when printed.

Also note that you should save all photos in CMYK mode, not RGB mode when possible. Images saved in RGB mode may not print properly. If you are unable to save your image in CYMK mode, please let us know.

How do I go about getting an estimate from you?

Well, since you are here, we would suggest you use our online estimate request form. Otherwise, the best way to ensure that we get all the information necessary to do an accurate quote is to give us a call and talk with one of our customer service representatives.

How long does it take for you to complete my order?

There really isn't a short answer to this question. Some jobs can be produced in minutes and some jobs may take days. Let us know when you need your job completed and we'll let you know if it can be done.

Is white considered a printing color?

Not typically. Because white is the default color of paper, it is simply recognized as the absence of any ink. However, when using colored paper, white ink may be used if any text or graphic requires it.

What file format should I use when submitting my electronic document for printing?

PDF (Portable Document Format) is the most common and preferred file format for submitting digital documents. With the installation of a PDF print driver on your computer, virtually any program can generate a PDF file suitable for printing. Both commercial and free PDF print drivers are available online for download from different sources.

What file formats do you support?

We support the following programs:

QuarkXpress 9 and earlier
Adobe Illustrator CS5.5 and earlier
Adobe InDesign CS5.5 and earlier
PDF

Please call ahead if you plan on creating your artwork in the following formats:

Microsoft Word - Requires special handling which may result in additional charges. Microsoft Word has no direct way to generate necessary items such as color separations and printer's marks. It also routinely makes changes to fonts and layout without warning when moved to a different computer. Complex documents created with Microsoft Word are subject to review prior to acceptance.

Corel Draw - Files may sometimes be used if you export the files to EPS format prior to sending, converting text to curves in the process.

GIF or JPEG - This file format cannot be separated into spot colors without substantial reworking, and the resolution is often inadequate to print clearly.

Microsoft Publisher
Powerpoint
Excel
Multicolor or complex Microsoft Word files
Multicolor PDF files

What is a "proof"?

A proof is a way of ensuring that we have set your type accurately and that everything is positioned according to your requirements. Typically, proofs can be emailed, faxed, or printed on paper and either viewed in our store or delivered to you in person.

What is the Pantone Matching System?

The Pantone Matching System (PMS) is a color reproduction standard in which colors all across the spectrum are each identified by a unique, independent number. The use of PMS allows us to precisely match colors and maintain color consistency throughout the printing process.

What is variable data printing?

Variable data printing is technology for printing documents so that each piece is personalized to the specific recipient. At the most basic level, this means personalizing a name and address. But for real impact, many projects include unique graphics and content that speaks directly to the recipient.

What kind of work does your store do?

Copy Services - Our high-speed duplicators can produce copies efficiently and economically whether you provide hard copy or bring in digital files on disk. Our state of the art production duplicating equipment allow us to deliver work quickly and efficiently.

Printing Services - From one-color to full-color printing, our store has the capability to meet your needs. From short run to long run, we can offer a solution that will be just right for you.

Finishing Services - We can cut, perforate, score, number, fold, collate, saddle stitch, bind, and just about any other bindery process you could ever need.

Design Services - We utilize the latest design technology available in order to offer a full range of design services. If you need a brochure produced, we can work from your camera ready copy, use the files you provide on disk, or design your brochure from scratch.

Why do the printed colors look different from the colors on my screen?

In short, printers and monitors produce colors in different ways.

Monitors use the RGB (red, green, blue) color model, which usually supports a wider spectrum of colors. Printers use the CMYK (cyan, magenta, yellow, black) color model, which can reproduce most—but not all—of the colors in the RGB color model. Depending on the equipment used, CMYK generally matches 85–90% of the colors in the RGB model.

When a color is selected from the RGB model that is out of the range of the CMYK model, the application chooses what it thinks is the closest color that will match. Programs like Adobe Photoshop will allow you to choose which color will be replaced. Others may not.