Products & Services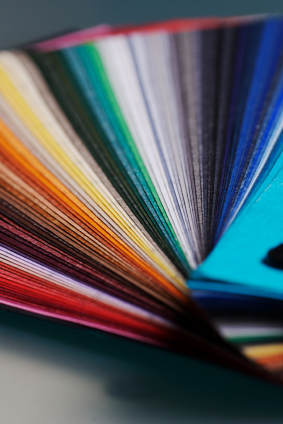 When it comes to business communications services, we've got it covered. We can provide virtually any product or service imaginable to communicate with your clients, employees, stockholders, or vendors.
We're experts at corporate identity pieces. But that's only the beginning. To learn more about the many products and services we offer, please contact one of our representatives.
Products
Embossing, Foil Stamping & Die Cutting - For sheer attention getting power, nothing beats embossing, foil stamping and die cutting. We do all this in-house to keep your prices and turn-around times low. A wide variety of foil colors and effects are available, as well as a good assortment of standard die shapes. Of course custom dies are always available.

Full Color Printing - Our Heidelberg GTO press and digital laser press deliver the quality today's market demands of full-color printing. Whether you're ordering full-color data sheets, brochures, newsletters, postcards, business cards or stationery, you'll be impressed with the accurate color we achieve.

Photocopying - Whether you need black-and-white or full-color copying, you will be pleased with our high-quality results.

Printed Office Products - Stationery, NCR forms, business cards, labels, continuous computer forms, memo pads, file tabs, etc. are the mainstay of our business. You can count on us to provide quality, on-time products delivered to your office.

Spot Color Printing - The bread and butter of our business is one-, two-, and three-color print jobs, a great choice for your corporate identity pieces: letterhead, business cards, envelopes, and office forms.
Services
Film From Your Desktop Publishing Files - Our art department can output your files to high-resolution film or paper. Our imagesetters output files at 2540 dots per inch on photographic negatives or RC paper. Even if you are having your job printed elsewhere, we can supply your film and prepress.

Graphic Design - We have a professional art department capable of satisfying your most demanding graphic arts needs. Our artists work hard every day creating original artwork for companies across the spectrum of local industries. Whether you need a brochure, logo, flyer or ad designed, we can do it.

Shipping & Delivery - No need for you to pick your printing and copy orders; we will ship or deliver them to your door.