Print Process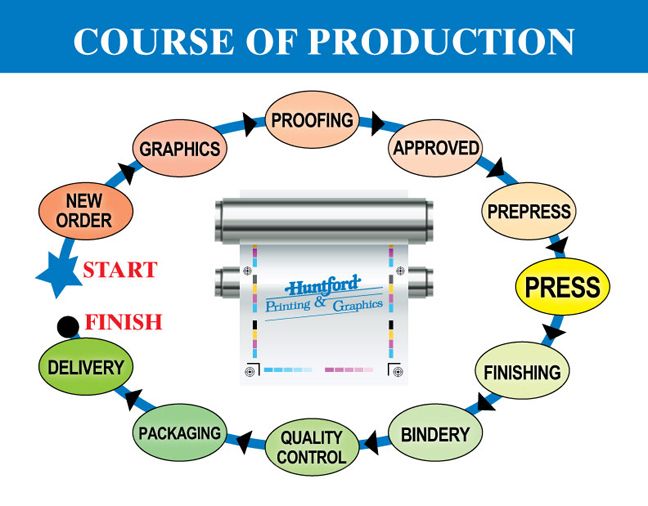 New Order: Any printing request that enters our system is considered a "New Order". Once processed by our Customer Service Department, it is forwarded to the Art Department.
Graphics: At this stage, it is determined if the artwork is Print-Ready or it requires design work such as a new layout or higher-quality version of the image.
Proofing: If a proof is requested, a PDF or a hardcopy proof is sent to the customer to be reviewed. If further changes need to be made, the order returns to the art department for further design work. If approved, the order moves to the pre-press stage. The Proofing stage is the last stage at which changes can still be made to the order.
Pre-Press: Once your proofs have been approved, they are ready to be imposed for the press.
Press:Depending on the specifications of the order, the print job is run on one of our digital or offset presses.
Finishing: If the job requires an additional protective layer such as UV coating, varnish or lamination, this is applied during the Finishing stage.
Bindery: Depending on the order, some jobs will need to be cut, bound, punched, stapled or folded. This is one of the lengthiest stages as it involves the most hands-on tasks.
Quality Control: Each job is inspected for quality over the duration of its production, but after leaving the Bindery, each job is inspected one last time.
Packaging: Once the job has passed quality control, it is then carefully packaged and boxed in a manner that ensures maximum safety and preservation of quality during shipping.
Delivery Method: Huntford provides standard and fast shipping, local delivery, and pickup options.